If you have wanted to teach Feng Shui classes but didn't know where to begin, then I have the solution for you! My Feng Shui 101 is a fully self-contained course program that is completely customizable to meet your needs and can be used for classes ranging from 60 minutes to full-day seminars. My name does not appear anywhere in the program.
Feng Shui 101 Features
Completely Customizable Powerpoint Program.
Change any Slides, Photos or Text to Meet Your Needs or Present Them Right Out of the Box.
Classes Can Be Given Online or In Person.
Includes 65 Individual Slides.
Slides Include Custom Animations to Help Your Audience Understand What You are Teaching.
Contains a 60 Minute Video to Walk You Through Teaching a Feng Shui Class.
Step by Step Instructions Included.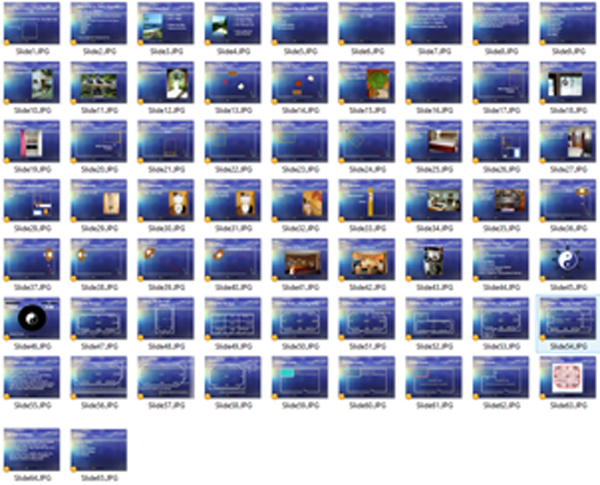 65 individual slides that depict all common aspects of Feng Shui. The course will teach people the basics and covers topics that you can edit in any way you choose. Each slide also contains detailed notes on what to say to your audience as they view them. Everything is included to help you deliver dynamic classes.
"Dear James,
I just taught my first class! The program REALLY helped me to prepare what to say and how to address the group in a very efficient way. I reviewed the video several times and the key factors were laid out so well that I was able to deliver a compelling presentation with your materials. Many thanks as always. I think your way of helping your former students has really, really made a great and positive impact on my career in Feng Shui". 
Rhonna Del-Rio-Ascolese, Assoc. AIA, Architect and Feng Shui Professional.
"Hey James,
I just wanted to let you know I finished doing my 2nd presentation with the
Power Point I bought from you. It is fabulous….I love it, it makes
speaking so much easier. And I'm sure, much less boring for the audience to
have to listen to. Thanks again I love it!!"
Jenny Chang, Reno, Nevada.
"Thanks so much James. Have been giving presentations at a local college for an Adult Enrichment class. This program has been a blessing! Previous classes have been successful so branching out into more individualized subjects on Feng Shui so am adding to the program. Thanks for providing a great educational tool! Blessings,"
Leslie Eckert, CFSP

Get Your Access Now…
Download Instantly
Give a Class "Right Out of the Box"
Easy to Follow Instructions
Regular Price is $399
I Sell to CFSP Graduates for $270
Purchase in the Next 3 Days – Only $180!!
Use Coupon below for Discount.

Important note: Use Coupon Code: fs115 after putting item in your cart.
Warmest regards,
~James